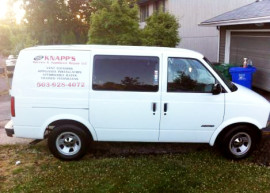 Kitchen cleanup can be a messy business. A sink garbage disposal can help you get rid of mealtime scraps, speeding up your cleanup routine. However, garbage disposal problems can make the situation even more inconvenient. If you need garbage disposal repair in or around Portland, look no further than Knapp's Service & Appliance Repair LLC. In addition to servicing major kitchen appliances like ovens and refrigerators, our professionals are also pleased to be able to perform complete garbage disposer repair services. We'll be able to get your unit back in action fast, providing you with lasting garbage disposal service. We even stand behind our work with a 90-day warranty that covers both parts and labor. Call or e-mail us today to book your appointment! 
At Knapp's Service & Appliance Repair LLC, our technicians are well-equipped to handle the dangers and complications of garbage disposal repair. We'll be able to identify the root cause of your garbage disposal problems and then work to completely eliminate both the symptoms and the source of the malfunction. To put it simply, we'll make short work of your garbage disposal repair project. Contact us for issues including: 
Garbage disposal leaks
Clogged garbage disposal
Unusual noises
Unpleasant odors
Failure to grind food
And more 
A clogged garbage disposal or one that's acting up in any other way may seem like a minor issue, but it can make a real mess. Don't feel like you have to live with an inoperative or finicky sink garbage disposal because you think repairs aren't worth it. Knapp's Service & Appliance Repair LLC will take great care of your garbage disposal to get ALL of your kitchen appliances back to working their best ASAP.
Fully Qualified for Garbage Disposer Repair
Knapp's Service & Appliance Repair LLC is a licensed and insured garbage disposal company. We have 20 years of experience in garbage disposal service, and we'll call on everything we've learned in that time to ensure you get long-term results. Our pros are familiar with a wide array of makes and models, and you can trust us to tailor our repairs to your unit's specifications. Whether you're tired of living with a garbage disposal leaking or your unit has recently started giving off a terrible smell, we're standing by to help. Contact us today to discuss your problems and schedule the services you need!