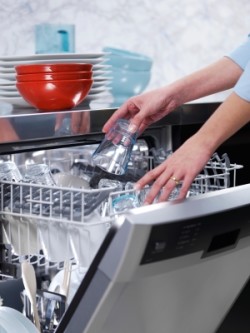 Hand-washing is no match for the cleaning power of a dishwasher. With the push of a button, high-powered spray and high temperatures blast away germs and food remnants, leaving your dishes and silverware sanitary and ready for your next meal. But even the most reliable dishwasher can experience technical difficulties. If you have an issue with a dishwasher not draining or filling, or if your unit is acting up in any other way, it's time to contact the pros at Knapp's Service & Appliance Repair LLC. Our dishwasher repair technicians have 20 years of experience on the job, and we'll put everything we've learned in that time to work in your home. We're Portland's choice for dishwasher repairs and more. Call today to schedule your appointment!
We're standing by to help if your:
Dishwasher won't fill
Dishwasher won't drain
Dishwasher won't turn on
Water is not reaching the correct temperature
Unit is leaking
Dishes are just not getting clean
Even seemingly minor malfunctions can be indicative of greater problems to come, so it's important to schedule professional dishwasher repairs right away. As well as resolving serious dishwasher problems, Knapp's Service & Appliance Repair LLC can also take care of minor issues before they become major ones. We'll give you an accurate diagnosis and lasting solutions. Whether you need dishwasher rack repair or you require a new inlet valve or drain line, we'll provide you with reliable workmanship from the initial inspection to the final turn of the wrench. For your added protection and peace of mind, we stand behind our dishwasher repairs with a 90-day warranty that covers both parts and labor. 
Licensed & Insured for Dishwasher Repair
Knapp's Service & Appliance Repair LLC is one of the most qualified dishwasher repair service providers in the Portland area. In addition to having extensive experience under our belts, we're fully licensed and insured to solve dishwasher problems. You can trust us for sturdy dishwasher repairs that have the endurance to stand up to your daily demands and provide you with flawless service, load after load. Our technicians emphasize speed and precision, and we use only the finest parts available. We'll give you dishwasher repair service you can trust.
If you have a problem with a dishwasher not draining or your dishes just aren't getting as clean as you'd like, Knapp's Service & Appliance Repair LLC is ready to step in. We work on most major brands, and we'll tailor our dishwasher service to your unit's specifications. Call us today to book your appointment for dishwasher service and repair! We even offer emergency services, so you can expect us to be there when you need us most.