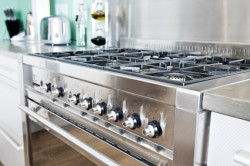 here's not much better than a home-cooked meal, whether you stick to simple dishes or you like to experiment with new recipes. If your cooking appliances break down, however, you'll be left ordering takeout or spending a fortune eating at restaurants. Get your kitchen back in action soon by contacting Knapp's Service & Appliance Repair LLC. We specialize in oven repair, stove repair, and more for most major brands and models. Our knowledge, skill, and careful attention to detail will have your machine running at its full potential again. Even the smallest changes in your unit's behavior could be a telltale sign of interior damage and deterioration, so don't hesitate—seek professional oven repairs at your earliest convenience. We're standing by to schedule your appointment for our expert oven repair service in Portland! 
The technicians at Knapp's Service & Appliance Repair LLC are available to address oven repair and range repair problems of all sorts. Some common complaints include:
Oven not heating
Oven won't turn off or on
Overheating
External heating
Possible gas leaks
Sparking
Stove burners not lighting
Features such as dials and timers not working
And more
Knapp's Service & Appliance Repair LLC has 20 years of professional experience with both electric and gas oven repair. We'll take the time to tailor our oven repair service to your unit's specifications for best results. In order to provide reliable, long-lasting oven repairs, we use high-quality replacement parts from leading manufacturers and keep a supply of commonly needed components handy to assist us in bringing you swift results. In addition to superior craftsmanship and customer service, we're available for emergency oven and stove repair, so if you need help in a hurry, you've come to the right place. 
Warranties for Oven Service
We stand behind the work we do with a 90-day warranty that covers both our technicians' labor and any new parts we install. We're also fully licensed and insured for electric and gas oven repair for your protection and peace of mind. When you hire Knapp's Service & Appliance Repair LLC, you can expect to receive top-notch workmanship from oven and range repair specialists who care about your satisfaction. We want to meet your needs 100%. 
Don't give up on your oven or range the moment it starts malfunctioning. It's possible that a new heating element or other component is all you need to get it running like new once more. The professionals at Knapp's Service & Appliance Repair LLC are your source for electric and gas stove repair and much more in Portland. We'll give you repairs aimed at getting your unit working again right away and keeping it working long into the future. Your kitchen is in good hands when you choose Knapp's Service & Appliance Repair LLC. Book your appointment by calling now!