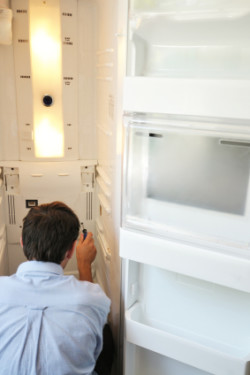 While it's frustrating when any home appliance breaks down, a malfunctioning refrigerator might be the most inconvenient to live with. Whether your fridge isn't keeping your food at the appropriate temperature or it has started to leak, professional refrigerator repair is the best solution. In and around Portland, your best choice for residential fridge repair is Knapp's Service & Appliance Repair LLC. We offer fridge repairs that will get your refrigerator back in proper working order fast, so you don't have to fret about losing all of your food to spoilage. We're even available in emergencies. So call now to schedule refrigeration repair, and look forward to regaining full use of your kitchen soon!
At Knapp's Service & Appliance Repair LLC, our fridge repair technicians are equipped to work on many top fridge brands and models. We provide quality workmanship and great customer service when you have a problem such as:
Refrigerator not cooling
Fridge failing to turn on at all 
Excessive noise
Leaking
Over-cooling
Too-frequent cycling
Issues dispensing ice or water
Or others
Superior Refrigeration Repair Services
Refrigerators are complex machines, and it's important to entrust their care to a refrigerator repair pro who is fully qualified to give you top-notch results. Knapp's Service & Appliance Repair LLC is proud to be licensed and insured for refrigerator repair service. Additionally, we have 20 years of experience offering residential fridge repairs. We've seen firsthand the myriad ways in which a refrigeration unit can stop doing its job, and we know how to customize our refrigerator repairs to your unit's specific needs. Trust our team for lasting results.
We stand behind our refrigeration repairs with a 90-day warranty that covers both parts and labor. While we always aim to fix the problems you're experiencing on our initial visit, sometimes unforeseen complications do arise. If you have an issue with a refrigerator not cooling or otherwise malfunctioning after we've worked on it, give us a call right away. We'll come back out to your home to determine what's going wrong and make it right.
Refrigerator Compressor Repair
Unlike many appliance repair companies, Knapp's Service & Appliance Repair LLC is fully certified to handle sealed systems. That means, when it comes to refrigerator and freezer repair, we're qualified to work on compressors and all other parts of your unit's cooling system. While many refrigerator repairmen can work on your fridge only up to a point, we have the training and expertise to provide comprehensive refrigeration repair. So don't settle for anything less! Call in our team, and you get the pros you can count on. Our sealed systems certification and commitment to quality work mean you can rest assured that we're equipped to tackle the problem, no matter what it may be, when your refrigerator isn't cooling.
It's important to call a refrigerator repair service professional as soon as something goes wrong. Do-it-yourself refrigerator repairs aren't worth the risk of personal injury or further damage, and the high cost of replacing your refrigerator is simply unnecessary in most cases. Instead, bring in Knapp's Service & Appliance Repair LLC. We'll take a look at your ailing fridge and get right to the source of the problem. We're the go-to refrigerator repair experts in Portland, and we're standing by to take your call!