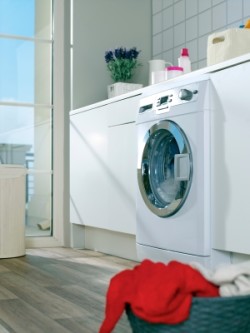 Is a broken washing machine making it difficult for you to enjoy fresh, clean laundry? Knapp's Service & Appliance Repair LLC is ready to help. We're a washing machine repair company serving homeowners throughout Portland and the surrounding communities, and we have what it takes to solve washer problems of all types and severity levels. Whether your issue is with a washing machine not draining or your unit won't turn on at all, pick up up the phone today to make an appointment with us! We will be happy to answer any question you may have concerning our washer repair procedures and our qualifications. And, because we offer emergency washer repairs, you can count on us to be there for you as soon as possible.  
Common issues that require professional washing machine repairs include:
Leaking
Failure to drain
Failure to fill
Failure to spin
Failure to start at all
Unusual noises
Strange odors
Incorrect water temperature selection
The team at Knapp's Service & Appliance Repair LLC has 20 years of direct experience and training in washing machine repair. That experience has given us the knowledge and skill to fix machines of almost every make and model. Do you need Bosch washing machine repair, Hotpoint washing machine repair, or repairs for another type of broken washing machine? We've got you covered. We'll tailor our washing machine repairs to your specific needs for best results. 
Warranties for Washer Repair
We stand behind our washer repair service with a comprehensive 90-day warranty. If you have an issue related to our labor or any new parts we installed during our visit, we'll come right back out to your home to figure out what's really going on. It's all part of our effort to be Portland's source for washer repair service that's reliable and long-lasting. 
Our licensed and insured technicians strive to stay on top of the latest trends and technologies in the washing machine repair service industry in order to bring all of our customers the best craftsmanship available. We carry high-quality tools and replacement parts in our trucks to give you fast results. After thoroughly assessing your unit and making an accurate diagnosis, we'll implement the appropriate washer repairs. While every wash machine repair project presents different challenges, you can count on Knapp's Service & Appliance Repair LLC to treat every job with the same care and consideration. 
If you're the slightest bit unhappy with how your machine is working—or not working—give us a call or send us an e-mail today! Prompt washing machine repair service can keep a minor problem from becoming a more costly, and possibly irreversible, issue. When you choose Knapp's Service & Appliance Repair LLC, you'll be getting expert service from some of Portland's best technicians.
For more information or to set up an appointment to deal with your washing machine not draining or getting your clothes clean, drop us a line now.