Knapp's Service & Appliance Repair LLC is your best bet for quality appliance repairs in Portland. We offer appliance repair for fridges, dishwashers, washing machines, and more. We're licensed and insured for home appliance repair, and we have 14 years of experience in our industry. You can trust us for expert workmanship and professional customer service.


*Domestic Brands Only

For local appliance repair in and around Portland, turn to the pros with 14 years of experience and a commitment to quality workmanship: Knapp's Service & Appliance Repair LLC. We're pleased to offer residential appliance repair throughout the region, always aiming for superior customer service and exceptional results. Whether you need refrigerator repair because of a cooling issue or dryer repair because your unit is overheating, we're ready to step in. We work with most major brands and models, both gas and electric, and we have a significant knowledge base related to what differentiates various brands from one another. Ready to deal with your broken appliance once and for all? Contact Knapp's Service & Appliance Repair LLC today! 
We're based right here in Portland, and we provide local appliance repair throughout much of the surrounding region. Come to us for appliance repair at your home in Gresham, Beaverton, Tigard, Tualatin, Boring, Lake Oswego, Sandy, West Linn, or elsewhere in the area. We'll get an appliance service specialist out to you as soon as possible to start work. From fridge repair to dishwasher repair and beyond, we care about giving you prompt and accurate service.
We have extensive on-the-job experience doing all sorts of appliance repairs, and we're fully licensed and insured for appliance repair service. We also hold a sealed systems certification, enabling us to provide you with complete refrigerator repairs, including handling refrigerants and fixing malfunctioning compressors. On top of those qualifications, we stand behind our appliance repairs with a 90-day warranty that covers both our technicians' labor and any new parts we install. We want you to be completely satisfied when you hire us for washing machine repair, dryer repair, or other appliance repair services, and that means striving to provide knowledgeable and skilled service at all times.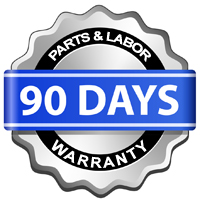 Call or e-mail us today to schedule your home appliance repair appointment! Whether you're hoping to nip a relatively minor issue in the bud or you need emergency appliance repair service, we'll be there when you need us. We also offer appliance installation for all units (except for refrigerators), and you can count on us to haul away your old unit once the new one is in place. In and around Portland, Knapp's Service & Appliance Repair LLC is your go-to source for oven repair, washing machine repair, and so much more. We look forward to working with you.
Knapp's Service & Appliance Repair LLC is unable to work on Viking or Wolf appliances at this time. We apologize for any inconvenience this causes.

We Service All Major Brands